Welcome to ZubarDubar's team!
At ZubarDubar are looking forward to getting you started and, not least, to have a lot of fantastic experiences together.
The staff manual has been prepared to have standard guide rules that apply when working at ZubarDubar.
The story behind
Since 2006, ZubarDubar has supplied bartenders and bar solutions for parties, events, and other arrangements around Denmark.
The team behind ZubarDubar has many years of experience in the industry, the bartending profession, and events planning.
The concept
Nordic Liquid Group stands for several brands that offer bar catering throughout Denmark. We offer hire of bartenders and complete bar solutions with a free bar in cocktails and draft beer for both large and small parties. As a freelance bartender, you will have a very varied everyday life with many different tasks and experiences.
We look forward to having you on board!
The team
At ZubarDubar, you become part of a big team owned by Nordic Liquid Group, one of Europe's largest specialists in bar catering. With approx. 25 full-time employees, 10 drivers, and over 800 bartenders and freelancers in 4 European countries, the group currently manages exciting brands such as Lej En Bartender, Drafttails, TenderBar, ZubarDubar, Isklart, TenderCrate, CaterCom, DOK5000, and Gin Hass®.
More than that, Nordic Liquid Group has a close collaboration with Barbussen, with bartenders on the buses every weekend.
Of these brands, you will primarily deal with our bar catering businesses under the ZubarDubar brand and the business partners for this. ZubarDubar supplies complete bar solutions for up to 2,000 events in Denmark annually.
Shift system - Reppio
Our shift system runs via the Reppio app:
https://app.reppio.co/join/TFJL
.
Create your profile with your full name, correct address and account details and profile picture. Remember to allow notifications from the app.
In Reppio you can:
See available shifts in your area
Read the description for all the shifts (date, address, number of guests/bartenders, etc.)
Sign up for shifts
See the shifts you have been assigned
Keep track of your previous shifts
Enter your transport costs
Chat with HR and the colleagues you will be on duty with.
Your first shift
As a new bartender at ZubarDubar, you must be aware of this:
You must have 4 training shifts before you are ready to stand independently at the bar.
Training shifts must be taken within 8 weeks after the first shift.
Only sign up for shifts with 2 or more bartenders assigned to your first shifts.
Only register for shifts in your district: Zealand or Funen/Jutland. We do not send bartenders over the Great Belt Bridge.
Register yourself for shifts in Reppio – it's usually first come, first served.
When you sign up for a shift, it does not mean that you have been given the shift – you only have that when we put you on. You will receive a notification about this.
Feel free to register for several shifts on the same day – then there is a greater chance that you will get one of the shifts.
You must not tell the customer/guests that you are a new bartender or that it is your first shift.
Get yourself a black shirt. This must be COMPLETELY black, without logos, motifs, or the like.
Customers can order 3 different packages (+ special solutions). The packages are bronze, silver, and gold (typically 6, 8, and 10 cocktails).
After the shift
If you have been appointed responsible for the shift, you must complete the record no later than the following day. The template can be found in the Facebook group.
Remember to enter your transport costs and overtime in Reppio. The guide can be found in the Facebook group.
Before the shift
Reply to our good morning message as soon as you see it. Then we know you're ready for your shift. Reply at least 3 hours before your shift starts.
Read the description in Reppio thoroughly.
Read up on recipes you may don't know/haven't done before. See the recipes here: tendercrate.com.
Make sure your work clothes are clean and clear: Black shirt, black trousers/skirt (must reach the knees), black/neutral shoes. This MUST be observed.
You must have power on your phone throughout the shift so we can get in touch with you. Please bring a charger with you.
Always check for changes in Reppio before your shift. In case of major changes, we will always call/write to you.
Be sure to research transportation options before signing up for a shift—getting there and back is your responsibility. However, carpooling can be arranged for larger shifts.
Take a packed lunch with you – you must never take away the customer's food. If they offer, you politely say no thanks.
During the shift
Always show up on time. Preferably 15 min. before the shift starts.
Remember to check in at Reppio when you arrive at the address.
Greet your colleagues if there are several of you on duty.
Greet the customers nicely and introduce yourself and the brand. Information about which brand is available in Reppio, as well as the customer's name and phone number.
If you experience problems during the shift, you must use the chat function in Reppio, or call support if it is urgent:+45 71 74 71 81.
Preparation
You have 1 hour of preparation before the bar opens. This can vary for larger events or if the customer only wants to hire a bartender.
As a first thing, always check that everything has been delivered. You will find the packing list in the red box – check that everything on the list is included.
If something is missing, ask the customer if they have moved some things (fresh fruit is sometimes refrigerated). If something is still missing, call support.
Sometimes, the driver has already set the bar where it needs to be. Other times you have to ask the customer where the bar should be set up.
Setting up the bar
You spend the rest of the preparation time setting up the bar.
Open your bottles, put pouring spouts in them and place them neatly on the bar.
Large soda bottles can be placed in the stacked milk crates under the bar.
Remember to save caps for bottles. This applies to empty and full/half bottles to get the leftovers back.
Cut the fruits and prepare the mint leaves if you will use them.
Make sure everything looks clean and organized.
Approx. 15 minutes before bar time starts, you make drinks ready for approx. 30 percent of the guests. This can reduce the queue at the bar when it opens.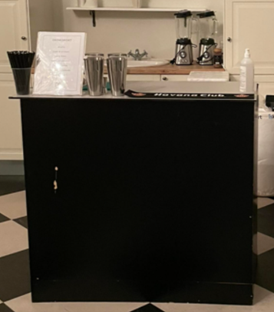 To learn
The bar time is the time when the customer has a free bar. The time period is in the description in Reppio.
Customers must be able to order drinks during all bar hours.
You must be smiling, professional and service minded.
Mobile phones may not be used when you are standing behind the bar – except when contacting support.
It is your responsibility to collect used glasses during the evening. Do it when the bar is quiet.
30 minutes before the bar time ends, the customer is asked if they would like to extend the bar time. If so, the price must be agreed upon between the customer and the support.
You must never say no to an extension of the bar time. You must be prepared for possible overtime when signing up for a shift. However, bar buses cannot be extended.
The last 15-20 min. cocktails are served in plastic mugs.
Pack together
When bar time is over, you pack up the bar and clean it up nicely. 30 minutes have been set aside for this.
Wipe down all surfaces and put things back in the boxes they came from.
Glass bottles (also empty) are covered and placed in milk crates. Bar equipment is rinsed and placed in the red box. Empty deposit bottles must be in a separate bag, and rubbish in another bag.
You must count how many glasses are missing/broken and write it in the chat in Reppio.
The driver will arrive when bar time ends. If he is late, you can call and find out how far he is. The phone number is written in Reppio before the shift starts.
You must always help the driver carry things out of the car (unless otherwise agreed).
Never leave things until the driver has arrived if this has not been agreed upon with support.
Breaks
As a rule, no time is set aside for breaks during the shift.
During longer shifts, where there are several bartenders, you can take 5 minutes if the bar is not busy. However, there must always be someone at the bar.
Pee breaks are always allowed – however, try to postpone them until the bar is not busy.
Smoking breaks last a maximum of 5 minutes. If the bar/party is outside, walk a good distance away so you don't disturb the guests.
Tip
We do not directly ask for tips, but if you receive a tip, the amount must be disclosed in the Reppio chat.
Contact
Join our Facebook group where we sometimes share important information: "Freelancing Bartenders ZubarDubar"
https://www.facebook.com/groups/827731754831645/
.
For questions and corrections about salary, you must always write topersonale@nordicliquidgroup.com.
As a starting point, we contact you via SMS/call and email.
When on duty, use the staff main number/support:+45 71 74 71 81.
Payslip sent per e-mail and to your e-mail box.
Termination must take place in writing to your immediate manager.
Employment Rules and Policies

Salary system
The salary falls under category B tax and is paid as a fee, as you are employed on a freelance basis. The tax card is therefore NOT automatically reported to SKAT.
We advise you to save approximately 39 percent of your income, which you can use when SKAT has estimated the amount they charge you.
Read more about B income here: https://skat.dk/data.aspx?oid=2234739.
The salary period runs from the 20th – the 19th. The money is paid monthly in arrears and is deposited into your account on the 1st of the month (the money arrives during the day – not necessarily in the morning).
The payslip will be sent by e-mail to your e-mail box.
Salary
The salary is paid as a total project salary. This amount can always be seen at the top of the description in Reppio.
For extensions of the bar time, you get DKK 400 per hour in addition to the project salary.
For other delays/overtime, you get DKK 150 per hour.
All overtime (including extensions) must be uploaded in Reppio (under expenses) after each shift – this is your responsibility.
In the case of overtime that is not an extension, a reason must always be given as to why it has taken extra time.
Transportation
It is always your responsibility to get to and from a shift, so always make sure you investigate the options for transport before you report to the shift.
The salary is always adjusted for the distance to the nearest big city. The salary will therefore be higher for shifts who are further away than for shifts which, for example, are located in the middle of KBH.
Terms of employment
As a freelance bartender, we expect you to take the job seriously. This includes, among other things:
To meet at the agreed time.
Being prepared for your shift (reading the description for the shift, practicing cocktails).
Be flexible – sometimes we have to move around to accommodate the shift schedule – here, we expect a certain degree of flexibility.
Unacceptable actions and behaviour
Certain actions are not accepted and may have consequences for your future employment:
Dissemination of confidential information to persons outside the company is prohibited – this also applies after the termination of the employment relationship.
Consuming alcohol while on duty is strictly prohibited, and you also do not show up to work under the influence.
Theft of company property (regardless of value) is not accepted and will result in immediate dismissal.
Absence from a shift without a valid reason.
Sick reports
Notifications of illness must be made by telephone to the main personnel number+45 71 74 71 81.
Notifications of illness must be made no later than 8 in the morning on the day of your shift, but always at least 3 hours before if the shift starts early.
Termination
If you wish to resign from your position as a freelance bartender, we would very much like to receive a written notification
personale@nordicliquidgroup.com
. After that, you are welcome to delete your profile on Reppio, so that you get out of the shift system.
Guide to bar techniques and popular cocktails
How to shake
Shaking is one of the most used bar techniques. See in the video how we do this at ZubarDubar.
How to stir
To get an icy cocktail, we use the string method. See in the video how we at ZubarDubar do this.
How to use a jigger
You will often need to use a jigger to measure the amount of your ingredients. See the correct use of a jigger in the video.
Mojito
See in the video below how to make a perfect Mojito.
White Russian
See in the video how to make the best possible White Russian.
Whiskey Sour
See in the video how to make the best Whiskey Sour.
Pina Colada
See in the video how to mix a Pina Colada.
Passion Daiquiri
The video below shows how to make a perfect Passion Daiquiri.
Glass
Cocktail Print must always be used in a martini glass or coupe/champagne glass – NOT lowball or highball.
Cocktails
Regardless of the type of cocktail, martini glasses or coupe/champagne glasses must NOT be filled with ice cubes. The cocktail must be strained into an empty glass without ice cubes. Otherwise, the print will not 'float' on the foam.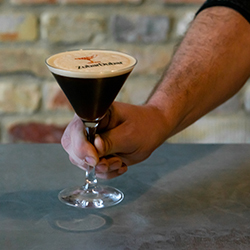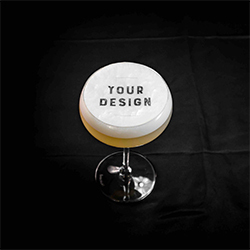 Foam
To get the optimal cocktail and print, there must be more or less 1 cm of foam. If there is not enough foam from the shaken cocktail, you can add more foam in two ways:
Shake egg whites with ice cubes.

Use the provided siphon bottle.
Paper and ink
Both ink and paper are made from sugar and can be eaten without worry.
If you are in doubt about the method, please call the support phone at +45 69 66 34 34.